How To Make Rainier Cherry and Chocolate Chip Ice Cream
Jump To Healthy Eating Recipes : Breakfast | Dinner | Salad | Snack | Smoothies | Lunch | Low Fat | Quick Bites | Vegetarian | Vegan | Sauces | Kids Recipes | Desserts | Pancakes | Pizza | Salad Dressings | Sandwiches | Vegetable Salads | Energy Bars | Ice Cream | Coffee
To fully enjoy the precious taste of Rainier cherries, when you eat this ice cream, you'll immediately know something is a little different, but you can't be sure. So let me show you the secret ingredient. It's cream cheese! CORRECT! This gives the ice cream a sour taste and gives it a richer flavor. It was a victory.
Rainiers have a lower acidity level, which gives them a higher brix (sugar content). Therefore, Rainier cherries are actually sweeter than Dark Sweet cherries.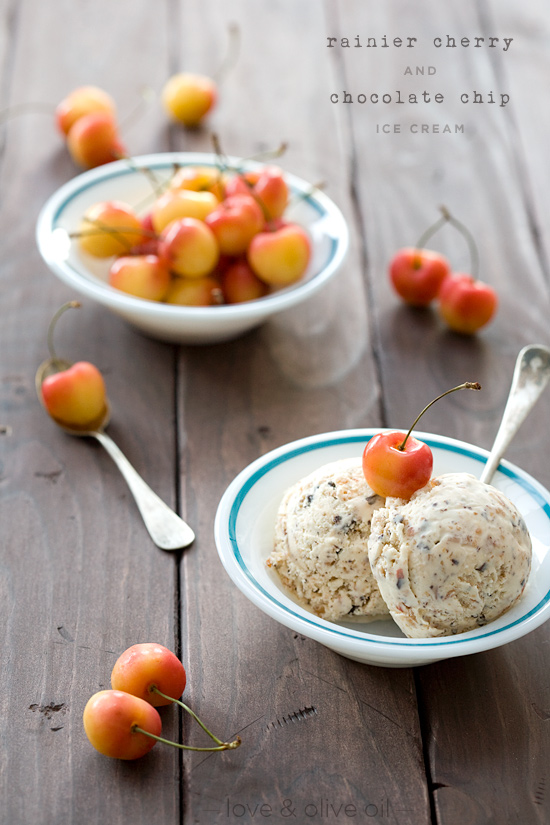 Ingredients:
1 1/2 cups heavy cream
1/2 cup almond milk
8 ounces sweet cherries (such as Rainier or Bing), pitted
3/4 cup granulated sugar
1/4 teaspoon vanilla extract
1/4 teaspoon almond extract
pinch salt
3 ounces dark chocolate, chopped
Directions:
Combine cream, almond milk, 6 ounces of cherries, sugar, vanilla extract, almond extract, and salt in the bowl of a food processor. Pulse until cherries are finely chopped. Add remaining cherries and pulse briefly until coarsely chopped.
Churn in an ice cream maker according to the manufacturer's directions. At the very end, mix in chopped chocolate. Transfer to a freezer safe container and freeze until firm, at least 4 hours or overnight.