From COVID to Migraines, FDA Cleared Device Provides Non-Drug Safe Pain Relief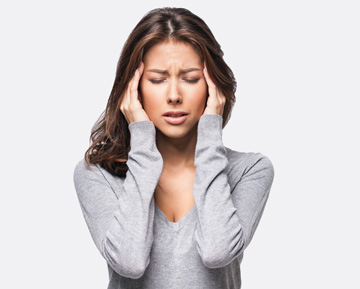 Persistent migraines and cluster headaches disrupt the lives, careers, and families of many people who struggle to find relief from debilitating pain. Migraine is one of the world's most common health conditions, affects roughly 39 million people in the United States, making it the sixth most prevalent illness in the world according to the Institute for Health Metrics and Evaluation's Global Burden of Disease study.
In addition, recent studies on symptoms of "long-haul" Covid-19 states that migraine is a common long-term effect of the illness.Common symptoms of migraines include a throbbing pain or pulsing sensation on one side of the head, often accompanied by nausea, vomiting, and extreme sensitivity to light and sound, according to the Mayo Clinic.Medications can provide some relief, but many come with side effects that can be as bad as the headaches themselves, and invasive procedures carry additional risks for complications. Few effective options are available for migraine and cluster headache sufferers.
Some patients try non-traditional therapies such as biofeedback, acupuncture, cognitive behavioral therapy, and herbal remedies, but success is limited, according to research.However, evidence suggests that stimulation of the vagus nerve, a large nerve that helps the body regulate pain, can provide relief from migraines and cluster headaches.The benefits of vagus nerve stimulation are especially notable for populations seeking safe, simple, drug-free treatments, such as adolescents and veterans."Over time, we have learned about the incredible power of the vagus nerve," says Peter Staats, MD, chief medical officer at the National Spine and Pain Centers and chief medical officer of electroCore, the makers of the gamma core device."We achieved a technical breakthrough in 2010 when we developed the ability to administer vagus nerve stimulation non-invasively by delivering a proprietary signal through the skin to either the right or the left branches of the vagus nerve in the neck," he says.Kerrie Smyres began using gammaCore in June 2016. With it, she went from getting a migraine attack every time she ate to being able to eat anything she wanted without an attack. "I was also able to go from barely working to working full-time and have been able to stop taking all my preventive migraine medications and rarely use abortive medications."The gammaCore Sapphire™is a handheld, non-invasive device that uses gentle electrical stimulation to activate the vagus nerve.
The device, which has been cleared by the Food and Drug Administration (FDA) for the treatment and prevention of migraines and cluster headaches, is available with a doctor's prescription.Using the device is a simple, three-step process that patients can do at home or on the go. First, find the spot on your neck near your pulse to activate the vagus nerve. Next, apply the accompanying gel to the stimulation surfaces, turn it on, and place it on the neck. Finally, adjust the intensity to a comfortable level, holding in place for a 2-minute stimulation.For more details, please visit gammaCore.com
. A Headache Discussion Guide may be helpful to share with your healthcare provider.gammaCore Sapphire™ (nVNS) is indicated for use in adult patients for the preventive treatment of cluster headache, the acute treatment of pain associated with episodic cluster headache, and the acute and preventive treatment of migraine in adolescent (age 12 and older) and adult patients.Important Safety Information
The effectiveness of gammaCore has not been established in the acute treatment of chronic cluster headache
gammaCore is contraindicated for patients if they:

Have an active implantable medical device, such as a pacemaker, hearing aid implant, or any implanted electronic device
Have a metallic device, such as a stent, bone plate, or bone screw, implanted at or near the neck
Are using another device at the same time (e.g., TENS Unit, muscle stimulator) or any portable electronic device (e.g., mobile phone)

Safety and efficacy of gammaCore have not been evaluated in the following patients:

Patients diagnosed with narrowing of the arteries (carotid atherosclerosis)
Patients who have had surgery to cut the vagus nerve in the neck (cervical vagotomy)
Pediatric patients (younger than 12 years)
Pregnant women
Patients with clinically significant hypertension, hypotension, bradycardia, or tachycardia
Please refer to the gammaCore Instructions for Use for all of the important warnings and precautions before using or prescribing this product available at gammaCore.com.