Types of Mountain Bikes Explained
Pedaling leisurely through the mountains or tackling daring trails – there's a bike for every discipline. In this article, we'll explain what the difference between the main types of mountain bike, are and help you figure out which mountain bike is best for you.
You can use the links below to skip to the relevant posts
Hardtail or Full Suspension – What's the difference?
The term Hardtail or Fully does not describe the bike's frame. Rather, it describes the bike's suspension system.
Full Suspension MTB
With the Fully, the front wheel and back portion of the bike have suspension. The Fully suspension helps compensate for shocks in uneven terrain, and a front suspension helps the front wheel maintain contact with the ground when going uphill. Suspension also helps protect your back.
Where a Fully shines:
high speeds
challenging and steep terrain
Jumps and drops
Disadvantages of a full suspension bike :
Hardtail (back wheel has no suspension)
With Hardtail, just the front wheel has suspension. The rear wheel does not have suspension. A Hardtail is suitable if you:
want to be fast and agile on the road
bike mainly on forest roads and flat tracks
The 5 different types of mountain bikes
Not all mountain bikes are created equal. Each MTB discipline is different and therefore has different needs. While the differences are not always crystal clear, you can mainly distinguish the types based on their suspension systems.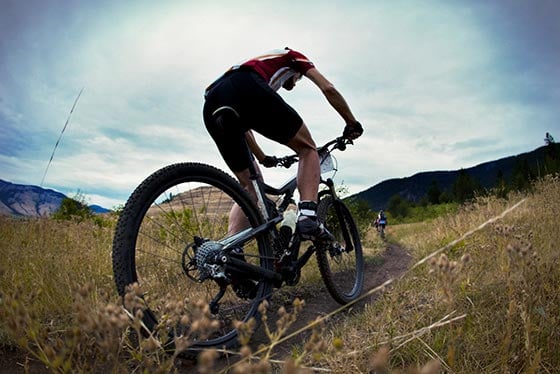 Cross Country Bikes
This bike is mainly used in cross-country races:
through forests
through fields
on gravel paths
on meadow paths
through paths with smaller gradients and descents
The focus with cross county MTB is on maneuverability and a sporty riding position.
Frame: hard and carbon
Suspension: Hardtail
Amount of suspension give: 100 – 120 mm
All Terain Mountain Bike & Enduro Bikes
The All Mountain Bike describes a wide range of uses, namely in the mountains. It is suitable for
easy and longer tours in the lowlands (at around 10 – 14 kg, it is considered light)
ascents
downhill descents on easy and medium-difficulty trails
small jumps and drops
Suspension: Fully
Amount of suspension give: 120 – 160 mm
You can reduce or lock the give on the suspension system on many models. This makes it easier for you to ride uphill.
The Enduro Bike is a mix between the all mountain bike and the freeride mountain bike. It is designed for a wide range of uses:
faster descents than the all mountain bike
higher jumps than the all mountain bike
easier to ride uphill than with the freeride mountain bike
Downhill bikes are very similar to the freeride bikes. That's why the amount of suspension give was increased, and the Enduro has wider tyres.

Amount of suspension give: 140 – 180 mm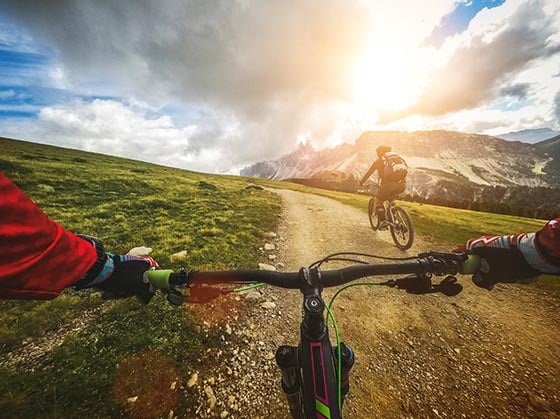 Downhill Mountain Bike
The downhill mountain bike is made
to traverse challenging trails with steep gradients as fast as possible.
The shape of the downhill mountain bike is unmistakable: wide handle bars, thick tires and a low saddle, for an optimal center of gravity.
This type of mountain bike is quite heavy at 18 kg, because the frame must withstand the stress of big jumps. The tires are thick and have good grip. Riding uphill is virtually impossible for a downhill mountain bike.

Amount of suspension give: 180 to 250 mm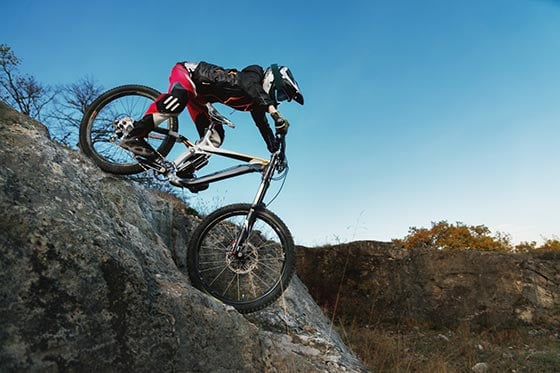 Freeride Mountain Bikes
The bike is cross between a downhill and cross country mountain bike. They are made for
While the freeride mountain bike is slightly lighter than its downhill counterpark, it's still no featherweight. Very stable components are used to ensure mountain bikes withstands extreme jumps (up to 20 meters). Therefore, mountain bikes are priced a bit higher.
Suspension: Fully

Amount of suspension give: 165 – 200 mm

Some Freeride mountain bikes are also suitable for uphill riding.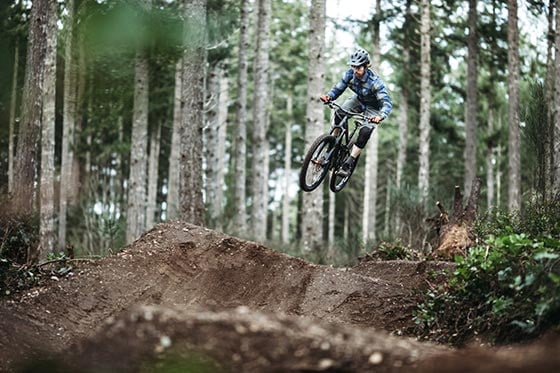 Fat Wheel Bikes
Fat bikes are made for tough surfaces, for example
You can recognize fat bikes by their wide tyres. At 4 to 4.8 inches, they are twice as wide as conventional mountain bike tyres.
A suspension system is often not included with fat bikes. The wide tires are kept at below normal levels to absorb most of the shock.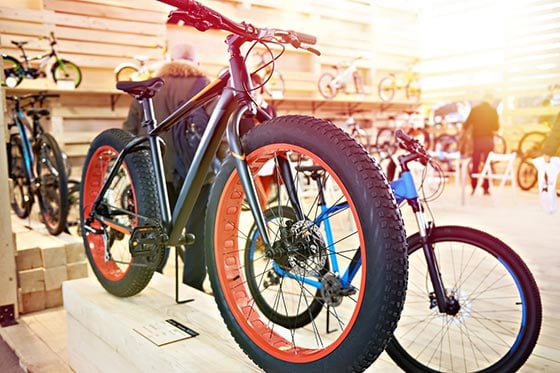 What is the right mountain bike for you
Deciding which mountain bike is the right one depends where you want to go and how much adrenaline you need.
Alpine Crossing & Tours
For a long tour in the mountains, you'll need a mountain bike that can cope with any terrain and slope, and the bike shouldn't weigh too much, thereby slowing you down. Perfectly suited for the task is the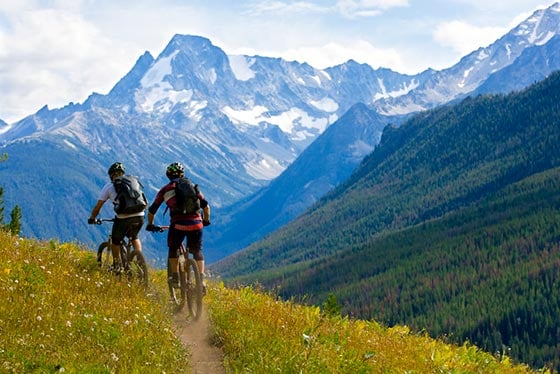 Fun in the snow and sand
Before writing off sand and snow. We recommend dawning on thicker tyres. For this, we recommend a
Going up the mountain and then down on exciting trails
If you're planning to ascend mountains at a leisurely pace and reward yourself with an exciting downhill run, then you should opt for
Adrenalin on steep and demanding trails
You'd rather do without riding uphill. You spend your time in bike parks or on trails that you can reach with the lift. Downhill, you're looking for the ultimate adrenaline kick.
If it's all about the thrill of speed, go with the Downhill Mountain Bike.
For extreme gradients and technicall trails, the Freeride Mountain Bike is the right call.